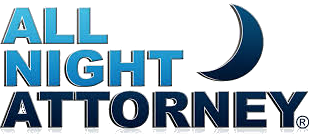 WELCOME TO ALL NIGHT ATTORNEY®
ALL NIGHT ATTORNEY® is a valley based law firm comprised of young, aggressive, and experienced attorneys who will be there when you need one most.
Unlike larger "bargain-bin" law firms who utilize answering services or non-attorney personnel to screen calls before connecting you to a real lawyer, at ALL NIGHT ATTORNEY® your call is always answered by an attorney.
You always have direct access to an experienced lawyer who can answer your questions in your hour of need.
The premise behind our firm's approach is simple, you usually don't need an attorney during "normal" business hours. You need an attorney late at night, on the weekend, when you're in the middle of dealing with the police. Its important to be connected with legal representation who knows how to advise you in the moment. This can help you substantially reduce your charges or get rid of them entirely. In the worst case scenarios it is important to have an attorney who works with bail-bond companies and is familiar with jails where you could be taken. Having access to legal representation in these critical moments can make the difference between you being held in custody or released with little to no bond. .
ALL NIGHT ATTORNEY® HAS AWARD-WINNING RESULTS
Award-winning edge others can't help but talk about